Dance Party: The Dan Deacon Ensemble at Red Hook Last Night
Andrew Limbong :: Wednesday, June 16th, 2010 1:50 pm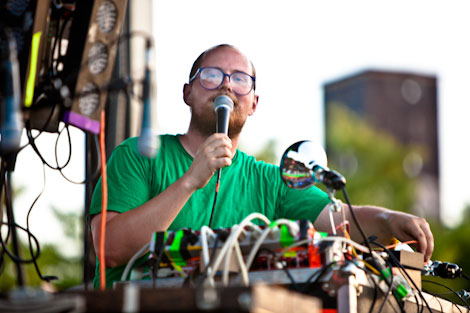 Photo via BrooklynVegan.


















The Dan Deacon Ensemble played a hugely fun set last night at Red Hook as a part of the City Parks Foundation's SummerStage series last night. He started his set by telling everyone to count down from 40. Of course, everyone complied. As the audience hit 0, we were treated to glorious synth noises and raging drum beats, from the 14-piece ensemble on stage.
The music only really stopped twice, when Deacon told the crowd to form a circle. The first time was for an impromptu dance contest, led by a hula hooper, that lasted for about a minute, and the second time was for a lesson in interpretive dance. So much fun.
What's probably most impressive about the set is the fact I didn't even really like Dan Deacon. Now? I'd follow that guy to synth heaven.

LEAVE A COMMENT BELOW