Clinton Breaks With Obama to Endorse Romanoff
Andrew Belonsky :: Tuesday, June 29th, 2010 7:00 pm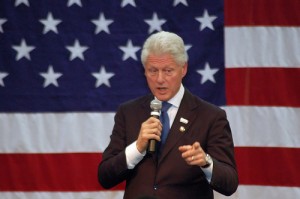 Bill Clinton broke rank with the Obama White House today, when he officially endorsed Colorado Democrat Andrew Romanoff for the U.S. Senate Clinton had previously come out to help fellow Arkansas lawmaker Blanche Lincoln. By backing Romanoff, however, Clinton has broken beyond his party's established barriers. Will this help Romanoff? You bet your sweet bippy!
Romanoff hasn't been in the Obama administration's good graces as of late. With all the political turmoil, the White House and their democratic operatives want to throw all their resources behind incumbents, like Romanoff's rival, Sen. Michael Bennet. That said, it should come as no surprise the Obama administration offered Romanoff some other occupational options.
The candidate himself admitted that deputy Chief-of-Staff Jim Messina offered him a number of jobs in exchange for his electoral forfeit. "Jim Messina, President Barack Obama's deputy chief of staff and a storied fixer in the White House political shop, suggested a place for Romanoff might be found in the administration and offered specific suggestions," reported the Denver Post. Romanoff didn't bite. Now he has Bubba Clinton on his side.
"We need Andrew's leadership in Washington — especially now, when so many Americans are losing so much," said Clinton of Romanoff. "It is not enough,' as Andrew put it at the Colorado Democratic Assembly last month, 'to put a president of real talent and vision and leadership in the White House if the same qualities are not matched at the other end of Pennsylvania Avenue.'" This is not the first time Clinton has opposed a candidate Obama's dream team opposed.
Yes, Clinton remains one of the most divisive American political leaders still living, but that doesn't mean his endorsement doesn't help. Arkansas Senator Lincoln looked like dead meat leading up to her primary. Clinton's endorsement, and his bestowment of the "Comeback Kid" title he once held, helped Lincoln fight for her political life. He has also come out for Texas gubernatorial contender Bill White. This latest endorsement, however, firmly cements former President Clinton's stance against the current White House.
No doubt Washington operatives are, as always, debating how to contain Clinton. He's the most popular Democratic leader by far, yet he's flying in the face of our president. There's no doubt that his endorsement of Romanoff will help the political hopeful. The remaining question is whether it will help the party.

LEAVE A COMMENT BELOW