Kobayashi Is No Longer Hungry And Hates Freedom
Matt Kiebus :: Tuesday, June 29th, 2010 6:45 pm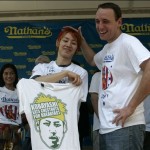 There is nothing more American than a hot dog and the 4th of July. This weekend Takeru "The Tsunami" Kobayashi intends to ruin both. The Japanese hot dog eating machine has announced he will not be competing in this year's Nathan's Hot Dog Eating Contest due to "contract disputes."
The 4th of July competition is the Super Bowl for competitive eaters. The contest is televised on ESPN around noon, and it's honestly a great way to kick off the celebration of America's independence. Kobayashi won this contest six consecutive years between 2001 and 2006. He was a powerhouse, an unbeatable hot dog eating force.
Americans were in search of a hero to win back the Nathan's crown, to restore the patriotic spirit. Joey Chestnut was the answer. I vividly remember waking up early to watch the 2007 contest (early means noon for a rising college junior). Here was the hot dog eating version of the "great white hope" going up against the unstoppable Kobayashi from the land of the rising sun. There was ESPN pre-eat analysis and a sell-out crowd of a million strong.
It was one of the most disgusting twelve minutes of my life, watching from my couch at home as grown men raced to finish food like children and McDonalds. But something inspirational happened that day. Chestnut finished 66 hot dogs, setting a world record and beating Kobayashi by three. The son of Merlin and Alicia Chestnut, Joey immediately became a symbol of freedom. He was the Rocky of competitive eating.
Over the next two years Chestnut successfully defended his crown, beating "The Tsunami" in a tiebreaker in 2008 and by 3.5 dogs in 2009. Going into this years contest the normal excitement swirled about the showdown between the American and the Japanese. That is until Kobayashi's contract disputes have killed the anticipation.
It's not clear what these "disputes" entail. Maybe Kobayashi wants kosher dogs or Sprite instead of Coca Cola in his 32-ounce cup. Maybe he has some outrageous appearance fee that Nathan's doesn't want to pay.
But the prevailing theory in my mind is that Mr. Kobayashi is afraid of Joey Chestnut and by not showing up Chestnut's fourth consecutive victory would be tainted. Maybe Kobayashi just isn't hungry anymore. Stuffing your face with hot dogs, wings, and burgers can get old after a while. But the collective swell of patriotism that Coney Island and the great United States of America gets watching a home grown talent win the great American eating contest just wouldn't be the same.
So man up Kobayashi or forfeit your honor.

LEAVE A COMMENT BELOW