Zack de la Rocha Fights Arizona Law By Recruiting Other Bands
Amy Dupcak :: Tuesday, June 29th, 2010 5:45 pm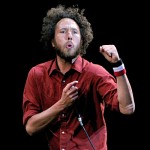 Zack de la Rocha has always married his revolutionary ideals and left-wing politics with his musical career. It's only fitting that his response to the Arizona Immigration Law, SB 1070, involve music, or rather, the lack thereof. De la Rocha organized The Sound Strike in order to get bands and musicians to boycott Arizona. Dozens of high-profile bands have just today announced their support of The Sound Strike, promising to avoid playing in Arizona as the fight against SB 1070 heats up. These acts include: Nine Inch Nails (although, they aren't playing anywhere anyway), Gogol Bordello, Maroon 5, My Morning Jacket, Ben Harper, Anti-Flag, Billy Bragg, Throwing Muses, and DJ Spooky, who join artists like Kimya Dawson, Yeasayer, London After Midnight, and a host of lesser known bands.
Others signed on to the campaign at its launch in May, such as Cypress Hill, Juanes, Conor Oberst, Los Tigres del Norte, Kanye West, and activist/filmmaker Michael Moore. De la Rocha's primary belief is that playing music in Arizona is "no longer a neutral act," as the money goes to supporting the state government. He goes on to say, "[Governor Jan Brewer and the Arizona legislature] have created an environment where they can convert the normal commercial interaction between artists and their fans into the means to apply this racist law."
De la Rocha is already planning a series of shows or "one giant concert" sometime in late July, where Rage Against the Machine and likely other bands who have signed the petition will perform. He is conscious of not isolating the people of Arizona and especially the "organizations that are fighting this on the ground," but he does believe that those Arizonans are all for making this musical sacrifice in order to collectively fight against the government.
It isn't surprising that de la Rocha would create a large-scale political response to SB 1070. His grandfather was a Sinaloan revolutionary who fought in the Mexican Revolution and then became an agricultural laborer in the US, and his father was a member of Los Four, the first Chicano art collective to be exhibited at any US museum. De la Rocha publicly supported the Zapatista movement in Mexico, spoke at the UN against the treatment of Mumia Abu-Jamal, and, with Rage Against the Machine, wrote some pretty radical songs, "Killin in the Name Of" and "People of the Sun" among them. So this kind of political activism is nothing new for de la Rocha, who of course has many criticizers.
Some feel that boycotting Arizona is an easy or passive move on the part of musicians, and many believe that there is a better way to educate the Arizonans about what they can do to fight the law. It's also inevitable that owners and employees of theaters and venues, as well as all others involved in the Arizona music business, will be negatively affected by the boycott. Arizona-based concert promoter Charlie Levy of Stateside Presents said, "By not performing in Arizona, artists are harming the very people and places that foster free speech and the open exchange of ideas that serve to counter the closed-mindedness recently displayed by the new law."





Zack De La Rocha for The Sound Strike from Producciones CimarrĂłn on Vimeo.
We gotta take the power back!



LEAVE A COMMENT BELOW