Sergio Vega: Gunned Down For Singing The Truth?
Nick Nicoludis :: Tuesday, June 29th, 2010 6:00 pm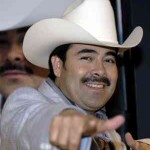 Popular singer Sergio "El Shaka" Vega was gunned down in his car while driving through northern Mexico on Saturday. His red Cadillac was riddled with over 30 bullets and authorities have made no arrests, nor do they have any leads.
Within almost every society on earth there is a ruthless relationship between truth seekers and truth suppressors, whether it's the government versus the people or one private entity versus another. It's widely suspected that drug warlords are responsible for the slaying, and that Vega was targeted for his commitment to singing about Mexico's drug problems. This  type of danger is not limited to Mexico however; Russians have witnessed state-enforced inhibition methods (e.g. murder) for years.
Vega, 40, was a popular singer in the narcocorrido style, a sub-genre of norteña, which uses the folkloric corrido ballad tradition to tell stories either glorifying or demonizing drug traffickers.
It seems often times narcocorrido singers get caught up in the world they sing about, and pay the ultimate price. Vega is not the first musician to be brutally murdered at the hands of suspected drug dealers.
According to the Wall Street Journal over the past ten years several singers have been assassinated, purportedly by drug gangs. In 2006 Valentín Elizalde was kidnapped after a show and found dead on the side of the road with signs of strangulation and torture.
Why do these cartels assassinate popular musicians? The answer parallels the Russian government's treatment of journalists over the past several years.
It's no real secret that the Russian government has been dealing with mouthy journalists and activists in the only way they know how: by killing them. Journalists like Maksharip Aushev and Magomed Yevloev-who ran a media group aimed at exposing Russia's abhorrent human right's record-were assassinated because of their dissident beliefs and the message of truth they were attempting to spread.
There isn't an oppressive force in the world that wants anyone squealing, so naturally Mexican drug lords and the Russian government want to suppress any talk of wrongdoing—or really just any talk about them at all. As is the case in most situations, the little guy who is trying to do what is right is crushed by the big entity that only cares about money, public image and power consolidation.
Sergio "El Shaka" Vega's death will most likely never be resolved and no arrests will likely ever be made, just like the myriad Russian journalist who were/are killed by the government they are trying to improve. The flavor of living in fear of murderous retribution can be similar, be it under lawless drug lords or the guise of authoritarian law.
El Shaka's death exemplifies, in a way, the struggle between truth and oppression; or rather justice versus lawlessness. Gangs seek their own retribution in accordance with guidelines they have created in order to survive and make money, just as the Russian government seeks retribution against those who they believe wish to tarnish their name and harm their country.
Is El Shaka the Tupac of Mexico? Let us know what you think!

One Response to "Sergio Vega: Gunned Down For Singing The Truth?"
Valentín Elizalde wasnt not kidnapped he was shot after a concert in his black suburban in Reynosa. By Los Zetas


Rikk July 1st, 2010 at 4:06 pm
LEAVE A COMMENT BELOW