Johnny Sanford :: Monday, March 22nd, 2010 1:30 pm
The Smashing Pumpkins are releasing TEARGARDEN BY KALEIDYSCOPE VOL. 1: SONGS FOR A SAILOR, an "Independant Record Store only" EP, with exclusive blacklight poster on April 17th, 2010.
"I used to work at an indie record shop so I'll always have a soft spot for the places where I still go to find the most vital music, whether new or still hidden," says Corgan.
Additionally, the first 250 fans that preorder the EP will have an opportunity to see an exclusive performance from the band at Amoeba and Urban Outfitters Space 15 Twenty in L.A. later that day.
Fans can download three free singles on SmashingPumpkins.com MORE »
Amy Rose Spiegel :: Friday, March 12th, 2010 2:20 pm
In the '90s, Sunny Day Real Estate was a musical staple for the wristbands-and-side-parts set. Sunny Day stood out from other bands who shared that description for a few reasons: They weren't from New Jersey, their appeal didn't rely heavily on whiny vocals, and, most notably, they disbanded before the release of their second album.  Now, over ten years later, the original line-up is recording their third album.  The urge to buy the CD and slip it into a band-button-laden messenger bag may be overwhelming for some, I'm sure. MORE »
Johnny Sanford :: Tuesday, March 9th, 2010 2:00 pm
Andy Richter is pretty funny for being pissed off. He finally spoke publicly as the cohost of Regis and Kelly about the Leno/Conan/NBC clusterfuck. While Conan has yet to speak his mind on the subject in the media, Andy claimed that he did feel a bit of resentment for the situation that Leno created.
"Do you have any ill feelings toward NBC and Jay [Leno]? Not that you're going to be honest . . ." asked Kelly.
"Um, yes!  Yes, I do.  Why wouldn't I?  NBC, definitely . . .  Everybody said they were going to do something and then they didn't.  They all said years ago, 'We're going to do something' and then they didn't…he [Leno] says 'I didn't have any choice, they wouldn't let me out of my contract.' You know how multimillionaires are always being forced to do things they don't want to do. I've calmed down about it." Video  of the interview after the jump. MORE »
Amy Rose Spiegel :: Friday, March 5th, 2010 4:20 pm
A caveat of Conan O'Brien's exit agreement with NBC states that he's not allowed to have a TV show for some time. Isn't it a little outrageous that they can not only kill his show, but his TV career? He can, however, perform his material live, and it looks as though he's preparing to do just that. MORE »
Colm McAuliffe :: Thursday, February 18th, 2010 2:25 pm
Some fifteen years after leaving the band, Depeche Mode's erstwhile keyboardist (and perhaps most underrated member) Alan Wilder rejoined the band live on stage in London's Royal Albert Hall last night during a special one-off concert for the Teenage Cancer Trust. You can view some of the performance (shakily) here.
Danielle Johnsen :: Friday, February 5th, 2010 9:19 pm
If you are reading this, chances are you watched at least one episode of the American 80's treasure "Small Wonder", a low budget syndicated sitcom based around the Lawsons and the odd little robot girl, V.I.C.I. who lives with the family and is treated like an actual child. Only in the 80's folks, only in the 80's. The show has just been released on DVD (out on February 16th) and culture vulture Rich from FourFour took one for the team and watched all NINE hours of the program!!! MORE »
Danielle Johnsen :: Friday, November 13th, 2009 4:37 pm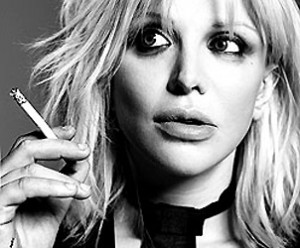 As a forever alterna-teen, news of Courtney Love's upcoming record is making me way too excited. The co-founder and leader of Hole, as well as twitterer and blogger extraordinaire, will release 'Nobody's Daughter' next January. The album started taking shape a few years back in 2005 when Courtney was doing a court-mandated stint in rehab, originally being produced by Billy Corgan and Linda Perry. Love scrapped the work she had done with Corgan and Perry in 2007 and began working on the album at New York's famous Electric Lady Studios with producers Marko Larkin and Michael Beinhorn. MORE »